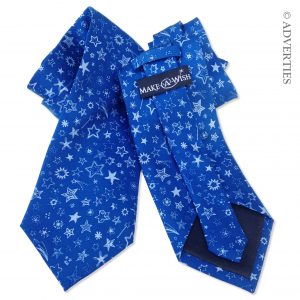 Make-A-Wish® grants wishes of children with life-threatening medical conditions to enrich the human experience with hope, strength, and joy. Wishes include trips to Disney, meeting someone famous, or living out their dream career.  Tens of thousands of volunteers, donors, and supporters help to make these wishes come true.  A wish is granted every 34 minutes in the United States. Make-A-Wish believes a wish experience can be a game-changer.
Gala Neckties
Make-A-Wish Wisconsin's signature fundraiser gala, "Wish Night", has raised more than 4 million dollars in recent years. Adverties Neckwear has had the privilege of supporting this event and providing the organization with custom designed neckties to coordinate with their evening's theme.  Recent themes have included: "It All Starts with a Wish", "A Night of Heros", and one of my favorites, "Spoonful of Sugar". The evening includes hors d'oeuvres, cocktails, silent auction, raffle, wine pull, diamond dig, dinner, live auction and an inspiring program featuring wish children and their families. The themed neckties are sent to donors of the event beforehand to give them the opportunity to wear the ties at the gala.  You can see past event photos at the Make-A-Wish Wisconsin's Flickr page.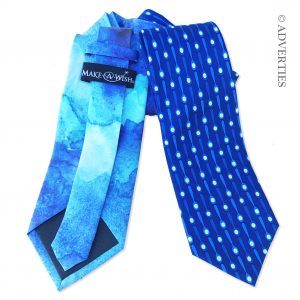 Many organizations look for unique ways to thank their donors. Showing your donors appreciation not only helps maintain relationships, it also keeps them interested in your fundraiser. Creating a customized thank you gift that represents that specific event, makes your gratitude and their donation even more meaningful.  Every time they use or wear your thank you gift, they are reminded of the difference they are making in the lives of others.  They are also reminded of the fun and memorable time they had at the fundraising event.
Adverties teams up with your organization to make the designing, ordering and shipping process seamless.  We also offer matching custom scarves and coordinating bowtie and cummerbund sets. Please contact our custom service for special pricing on formalwear sets.
The Designing Process: www.adverties.com/artwork-custom-neckwear