Create beautiful custom printed neckties in silk or polyester fabrics with your corporate logo, product images, or corporate color themes.  Custom logo products are traveling advertisements that leave a lasting impression, making them crucial for building brand awareness. Our art department will work with you to lay out full-color designs that will give your company an impressive customized neckwear program.  Custom corporate silk neckties are an exquisite item to use as a give-a-way gift to a valued sponsor and an exceptional sales representative.  Custom polyester neckties are perfect for introducing a product as a promotional item or use in a company's uniform apparel program.
Our custom printed neckties are produced using a wet dye process that is permanent and will not bleed. This process allows us to fully dye patterns into the fabric with fine detail and brilliant colors.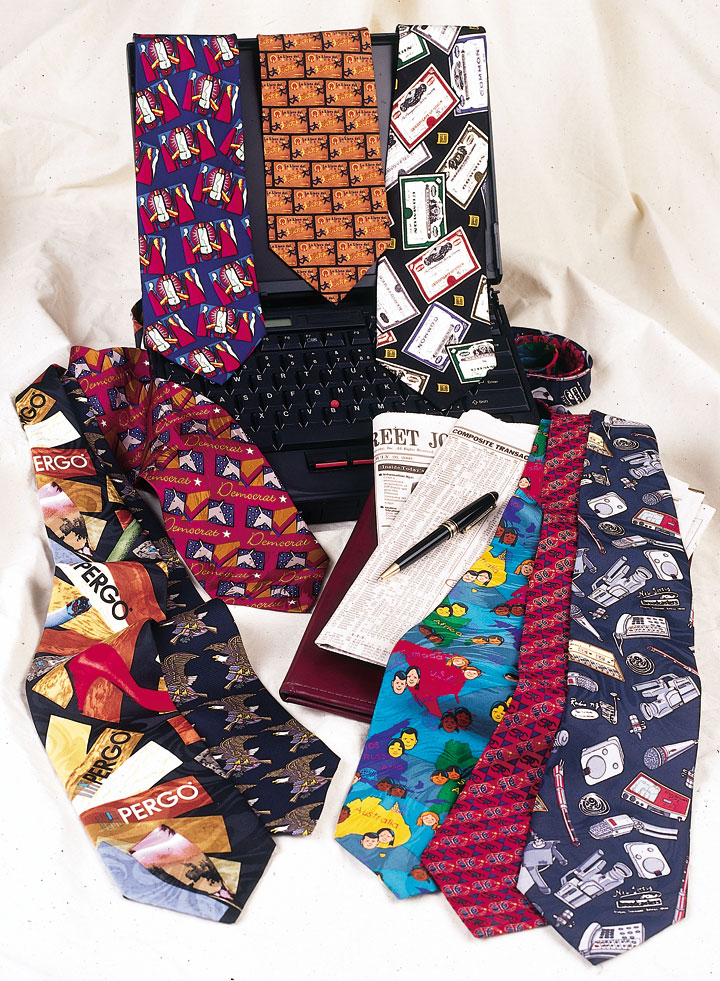 Custom Silk and Polyester Printed Neckties
We use a process called wet-dyed screening. The fabric starts off white and all the colors are dyed into the fabric. The dyes are made to match Pantone colors, they are permanent and dry cleanable. Fabrics used in making these custom ties are the same quality you would find in any major department stores.
Pricing:
| | | | | | | |
| --- | --- | --- | --- | --- | --- | --- |
| ITEM | PRODUCT | 50 | 100 | 150 | 250 | 500 |
| 1025 | Silk Printed Ties | 26.00 | 20.00 | 19.00 | 17.00 | 13.00 |
| 1050 | Polyester Printed Ties | 22.00 | 17.00 | 16.00 | 12.00 | 9.00 |
Pricing includes; up to 8 colors, screens and setups.
Artwork: Free presentation (3-5 custom designs)
Production: 8 weeks reg., 4-week rush (no fabric proof with rush orders)
Terms: 50% down with P.O., Balance based on credit application
Custom Loop Label: $150.00 one time setup
Extra Long ties: add $1.00 per tie
Gift Boxes: add $1.00 per tie
Distributor Pricing
Order Information
Additional customization can be done by request. Custom neckties can be sized in different widths to meet your style preference. Design ideas and branding concepts can be submitted to our art department for production presentations and review.  Contact our in-house graphics department for additional information and artwork rendering ideas.
Testimony In Excellent Service
"I had a large order of custom printed neckties and scarves to place. I started checking the custom neckwear market for suppliers. I learned about Adverties Neckwear and was impressed with their competitive price range for large quantities. I was somewhat skeptical of the company because the pricing was too good to be true. I was surprised to find that the whole process, from the initial order to the continued reorders, was efficient and professional. Your customer service was first rate! Adverties is sophisticated and offered great service at a great price. I've rarely seen a supplier act with such speed and accuracy. Thanks for the great experience. Hope to place more orders in the future."
Sharon Archable
Tailored Marketing Concepts